CHUKOH ADHESIVE TAPES ASF-110B
ASF-110B Fluororesin/Film based material RoHS Directive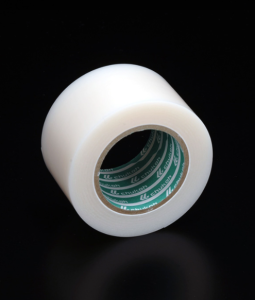 In an environment that dislikes silicone! "ASF-110B" using acrylic adhesive
-OVERVIEW
This tape consists of acrylic adhesive applied to a base material made of fluoroplastic (PTFE) film.
This product can be used in applications where silicone is not suitable.
---
-MAIN APPLICATIONS
•Slippage enhancement, masking and insulation covering in a place where silicone is not suitable
---
-OPERATING TEMPERATURE LIMIT
+80°C
---
-STRUCTURE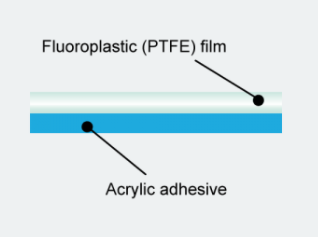 ---
-CHARACTERISTICS
• This is fluoroplastic tape using acrylic adhesives.
• This adhesive tape does not produce siloxane gas because it does not contain silicone.
• The surface of the tape has excellent insulation, non-stick property, slipping characteristics, clean release characteristics, chemical resistance and water repellency.
---
-TYPICAL DIMENSIONS
Total thickness (mm)
Width (mm)
Maximum width (mm)
Length (m)
Normal stock
0.08
–
350
10
0.13
25
350
10
*Tapes can be slit to widths not shown above up to the maximum width.
*Please consult us separately for the dimensions other than above.
---
-TYPICAL PROPERTIES
Product code
Total thickness
(mm)
Tensile strength
(N/25mm)
Elongation
(%)
Adhesion 180° peel test
(N/25mm)
Breakdown voltage
kV
Maximum service temperature
(°C)
ASF-110B
0.08
70
180
9
10
80
0.13
160
180
9
15
80
*Values shown in this table represent measurements and do not constitute guaranteed values.
---
▼For more details, please contact us !