TOKYO KEISO Universal Totalizer IR1700
IR1700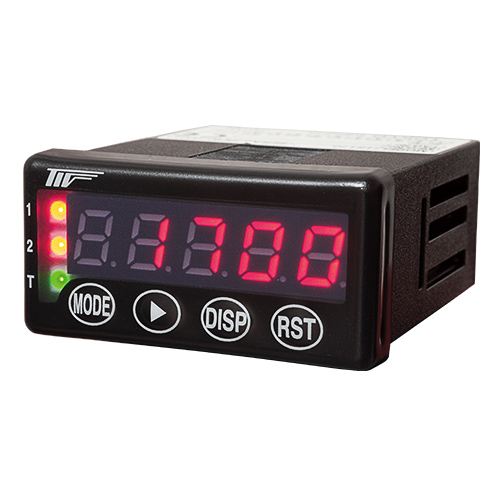 IR1700 is an indicating totalizer. Connecting with flowmeters having pulse output, it indicates alternatively instantaneous or totalizing flow rate with alarm output. Scaling, preset value and other parameters can be set through a key operation on front panel. Supplying built-in power of 12 V DC for sensor, it receives 3-wire pulse signals. IR1700 compact housing of DIN48 × 24 is just the right size for your space saving control panel.
Short specifications
Indication
Indicator: Red 5 digit LED, height 7 mm
Flow rate indication:
Max. 4 digits LED Scaling 0.001 to 9999
Measurement accuracy ±0.05% rdg. ±1digi
Low cut-off 1 to 29% variable
Indication sampling period Averaging in 0.1 to 99.9 sec.
Totalizing count indication:
Max. 5digits LED Scaling 0 to 99999
Accuracy ±0
Scale factor 1 to 180000 count/h
Low cut-off Same setting applied as the one of flow rate
Over scale Selectable either of following
· Stop totalizing with flickering indicating digit
· Continue totalizing from zero endlessly
· Continue totalizing with shifting
Flow rate and totalizer flow indication when abnormal signal is received.
The last digit flickers if input signal exceeds 150% F.S.
3 LED status lamps on the front panel
1 (Red): ON at alarm output OUT1 is ON
2 (Red): ON at alarm output OUT2 is ON
T (Green): ON at totalizing count indication
INPUT
Pulse input (receives pulse output signal):
· NPN Open collector or dry contact pulse (no-voltage contact)
· Voltage pulse
External input:
To receive NPN open collector output signal and contact output signal.
Select following functions.
Reset input:
Totalizing count or alarm is reset by ON input.
Inhibit input:
Sensor input is inhibited by ON input
(Input becomes zero compulsorily)
Hold input:
Current indication is kept hold by ON input.
OUTPUT
Alarm Output:
Flow rate / Totalized flow Duplicated use is not allowed.
・NPN open collector
Sensor power supply
DC12V, 50mA max.
Enclosure
Front: IP66 eq. (Case: IP20 eq.)
Pls click below Data Sheet link !!!
👇👇👇