MATSUSADA PRECISION High performance smoke absorber/deodorizer
Q201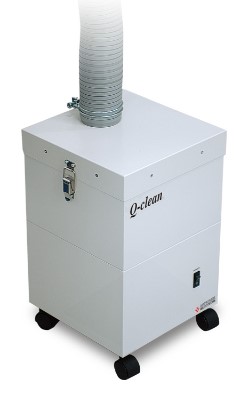 MODEL
Processing air volume
dcut dia
size
60Hz input
50Hz input
Q201
About 2.0m3/min
About 1.7m3/min
Φ65mm
W250mm×D250mm×H432mm

(Including duct flange)
■Features
Sufficient suction power despite its ultra-compact size
High performance smoke absorber/deodorizer
Ultra-compact type
A standard smoke evacuator that achieves sufficient suction despite its small size.
Q201 is an ultra-compact smoke evacuator with a width of 25 cm and a depth of 25 cm. It can be installed even in a small space such as under a work desk. In addition, this small body uses a high-performance 3-layer filter to strongly absorb and remove smoke, gas, dust, and odors.
Overview
The ultra-compact body contributes to creating a comfortable work environment without worrying about where to put it.
Equipped with casters as standard equipment for easy movement
Equipped with a 3-layer filter that strongly collects "dust", "odors/gases" and "fine particles"
Super compact
With a compact body of W250mm x D250mm x H435mm (including duct flange), it can be placed under or next to a work desk in a small space. Easy to move with casters. Lines can be moved and rearranged immediately.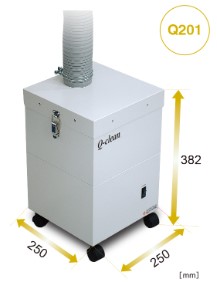 Flexible duct
By twisting the duct, the diameter of the duct can be varied by ±15%. In addition, the length can be adjusted and stretched up to 30%. It is also easy to cut the duct to the optimum length.
* The longer the duct, the lower the air flow, so cut it to the required length before use.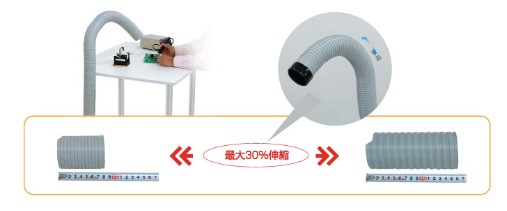 High performance 3-layer filter
High-performance 3-layer filter designed exclusively for Q-clean powerfully removes smoke, gas, dust and odors