TRUSCO Solid Carbide Coating Drill
High-quality cemented carbide drills with the entire manufacturing process carried out in Japan.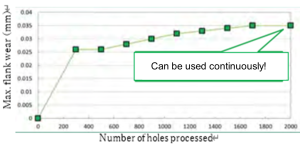 Workpiece material: S50C – Tool diameter: ø6 (TRP2D0600S06) – Drilling depth: 12 mm (stop)
Cutting conditions: Vc = 80 m/min, f = 0.2 mm/rev
Tool protrusion: 26 mm
Water-soluble cutting oil (external lubrication)
3. Quality control by lot number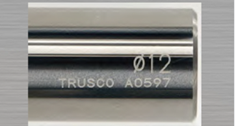 Each drill is individually stamped with a lot number and quality-controlled.
Quality checks are carried out at the cemented carbide material stage, where the drill is made from, and several intermediate dimensional inspections are carried out before the product is manufactured, with careful quality checks carried out at each stage of the process.
Only products that have passed the strict inspections at each stage of the process are inscribed with a lot number.
4. Full range of sizes (111 product numbers in total)
A line-up of drill sizes from 1.0 mm to 12.0 mm in 0.1 mm increments to meet diverse needs.
Click here for information on drawings and model numbers.
▼ For more information, please contact us ! ▼