Nidec Copal Electronics | Pressure transducer with amp. PA-97S Series
Pressure transducer with amp. PA-97S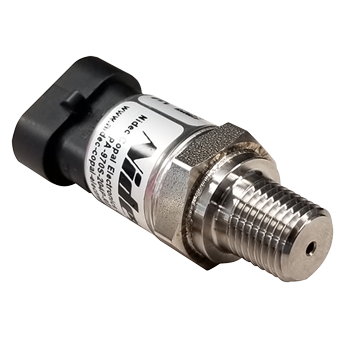 Highly precise thin film pressure sensor
Nidec Copal Electronics has released the PA-97S series thin-film medium / high pressure sensors since this October as a new pressure sensor product.
The "PA-97S Series" is a pressure sensor developed for measuring pressure of gases and liquids in hydraulic equipment and machine tools, mainly in general industrial equipment.
FEATURES
High precision and high reliability achieved by metal thin-film technology (SUS630 equivalent diaphragm, no silicone oil)
The maximum permitted media temperature range extends from -40…+125 °C
※High precision pressure sensor with an accuracy of ±0.5% F.S. can be achieved within a range of 0 to 105 °C.
Waterproof (IP67) with welded and integrated connector structure
Wide variety of pressure ranges to choose from
For more information, please contact to us now!