Maxell Ionized Air Deodorizer MXAP-AE400
MXAP-AE400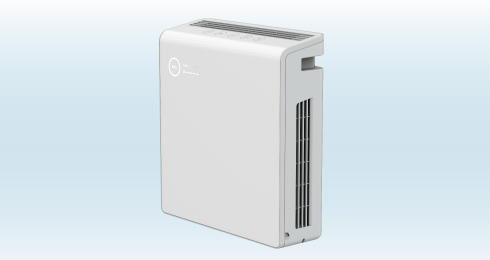 Overview
Eliminates bacteria, odor and viruses in a space of up to 50 m² using the powerful oxidizability of ozone!!
ozone exists in the natural world and purifies our air
The MXAP-AE400 ozone anti-bacterial deodorizer decomposes bacteria, viruses and sources of odors utilizing the powerful oxidizability of ozone.
It has three ozone generating modes that cover a wide range of areas. In AUTO mode, it uses an odor sensor to detect odors and automatically controls the amount of ozone generated to provide a comfortable atmosphere. It provides a comfortable atmosphere in large public areas such as medical and nursing facilities, hotels, offices, hospital waiting rooms, etc.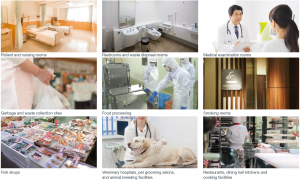 What is ozone?
The molecular formula of ozone is O3, which means it is made of oxygen (O2). Ozone is extremely unstable and reactive. It readily reacts with another substance to return to oxygen. It reacts with germs and odorous substances, eliminating bacteria and odors.
The bacterial elimination effects were confirmed in a closed space of 25 m³ at the Kitasato Research Center for Environmental Science.
The viral elimination effects were confirmed in a closed space of 25 m³ at Japan Food Research Laboratories.
The odor eliminating effects were confirmed in a closed space of 22 m³ at Life Science Research Laboratory.
These effects are not demonstrated in actual use conditions. They do not guarantee that the product is effective for all odors, bacteria and viruses.
◆spec◆
 
Model
MXAP-AE400
JAN code
4902580793715
Power supply
Dedicated power adapter: AC100 to 240V, 50Hz/60Hz
External dimensions
340 (width) × 110 (depth) × 370 (height) mm (not including projecting parts)
Weight
Main unit: About 3.8 kg (not including power adapter)
Operation temperature range
0 to 40℃ (when no condensation occurred)
Amount of ozone generated
Max. 10 mg/h
Recommended area range
Mode 1: About 16 m² AUTO mode: 16 to 50 m²
Mode 2: About 33 m²
Mode 3: About 50 m²
Accessories
Dedicated power adapter, user manual
For further information, please visit the maker's website.
https://biz.maxell.com/en/living_life_equipment/mxap-ae400.html?_ga=2.97464351.1872872063.1603419674-1218951071.1603419674
Please feel free to contact us if you have any questions about MXAP-AE400